Frogs and Friends wins a Parents' Choice Approved Award!!
"Good albums of classically inspired music for children are rarer than one might think...
This album is a lovely and exciting way to introduce children to the joys of classical music."
Parents' Choice Award Review
Established in 1978, Parents' Choice is the nation's oldest non-profit guide to children's media and toys.
Click here to read the full review on the Parents' Choice website
Performances
January through May 2013
Currently in our 5th season with the nationally acclaimed
San Francisco Symphony Adventures in Music
with whom we perform over 125 concerts each season
in San Francisco city schools.
Click here for more information about AIM
October 24, 2012
Outreach Presentation Workshop
San Francisco Conservatory of Music

July 31, 2012
Private Concert
San Francisco Conservatory of Music
Summer Music West
March 6, 2012 at 12:30pm
Noontime Concerts
at the historic Old Saint Mary's Cathedral
on the California Street Cable Car line at Grant Street in San Francisco
660 California Street at Grant

Guest Artist
Steve Sanders, piano

PROGRAM
Quintette en Ut - Claude Arrieu (pen name of Marie Louise Simon) 1903-1990
Allegro
Andante
Allegro scherzando
Adagio
Allegro vivace

Sextour - Francis Poulenc 1932-1989
for piano & winds
Allegro vivace
Divertissement
Finale

Trois pièces brèves - Jacques Ibert 1890-1962
Allegro
Andante
Assez lent
Allegro scherzando

Monday November 28, 2011
Private Concert
Alameda, CA
Monday November 28, 2011
Private CD Signing
Burlingame, CA
Halloween Night, Monday October 31, 2011
at a special family-friendly time, 6:30PM
at Freight and Salvage Coffeehouse
Berkeley, CA
The Story of Bellavente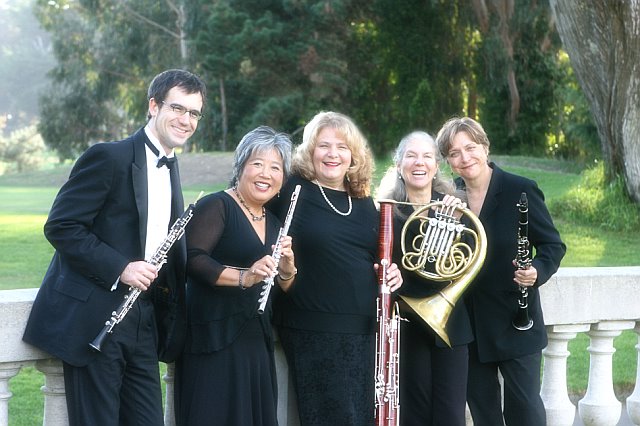 Bellavente is known throughout the San Francisco Bay Area for their wonderfully imaginative concerts for children. In 2013, they are performing their 5th season with the nationally-acclaimed San Francisco Symphony's Adventures in Music program, having performed over 125 children's concerts each season.
Our repertoire illuminates the concert stage with music that captures both the lushness and vitality of the woodwind quintet as well as the poignancy of each instrument's voice, joining familiar classical music with the excitement of contemporary music.
Bellavente's members are among the finest classical musicians in the Bay Area. Individually, they have performed with all the region's top orchestras and with some of the greatest stars and popular musical groups of our time.
The musicians of Bellavente have a rich history of entertaining children and families. Our goal is to share the magic of music and to perform exciting and engaging concerts for our audiences.

Our "Frogs and Friends" show is geared for families and highlights music from our CD. From classical to traditional folk song, ragtime to Gershwin, marches to contemporary, audiences will be entertained with chamber music and the classical woodwind quintet through music, story and song.
We also perform our 2013 show with the San Francisco Symphony AIM titled "Four Elements of Music: Composer, Conductor, Musician and Audience".
Bellavente's programs are full of wit, energy and enthusiasm and are presented to reflect the goals of the sponsoring organization.
Recordings

Frogs and Friends with the Bellavente Wind Quintet Music and Stories for Children


This CD is a delightful and charming collection of music chosen from our children's concert repertoire, introducing the young and young at heart to chamber music and the classical woodwind quintet through music, story and song. From classical to traditional folk song, ragtime to Gershwin, marches to contemporary, and imaginative variations on "Happy Birthday To You", this diverse collection of music and stories is designed to engage the young listener. Stories include "The Garden" from "Frog and Toad Together" by the award-winning children's author Arnold Lobel. This is a CD that adults and children can enjoy together.
Parlor music of Mozart and salon music of French composers Maurice Ravel and Francis Poulenc was chosen as well as two beautiful movements from a Quintet written by Marie Louise Simon under the pen name of Claude Arrieu. The lovely music of French-American composer Darius Milhaud and two classics from American composer George Gershwin complete the musical ambience.



Contact Bellavente
For concert booking information
or to request to be on our mailing list
contact us by phone or email.
www.bellavente.com ** info@bellavente.com ** (650)544-4912
THE GARDEN from FROG AND TOAD TOGETHER Copyright © 1970 Used with permission from HarperCollins Publishers